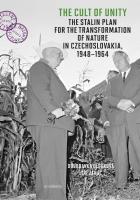 The Cult of Unity - The Stalin Plan for the Transformation of Nature in Czechoslovakia 1948-1964
Janáč Jiří, Olšáková Doubravka,
The Stalin Plan for the Transformation of Nature, which was launched in the USSR in autumn of 1948, had a fundamental impact on the approach to postwar reconstruction and the reshaping of nature and the environment in Czechoslovakia. This publication outlines the main features of this ambitious plan, whose implementation in Czechoslovakia was entrusted to Rudolf Slánský and Josef Smrkovský. It examines the plan's implementation and its institutional foundation and explores natural resource management in the context of Communist Czechoslovakia's radical rejection of Malthusian theories. An investigation of the continuity and discontinuity between the interwar and postwar periods demonstrates the possibilities and limits of the Sovietization policies enacted by the new elites. It also reveals basic elements of continuity in the sciences and technology in an era that was seemingly hostile to continuity.