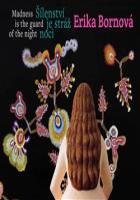 Erika Bornová - Šílenství je stráž noci / Madness is the Guard of the Night
Bornová Erika, Pachmanová Martina, Urban Otto M.
Kniha přináší výběr z nejnovější tvorby jedné z nejosobitějších umělkyň současnosti. Erika Bornová je vypravěčkou silných, mnohoznačných příběhů. Ať se již jedná o sochařský cyklus věnovaný Almě Mahlerové a jejím mužům, o uhrančivé akrylové Autoportréty nebo o imaginativní kresby Rostlin či Vodních bytostí, vždy s nadsázkou reflektuje banalitu života, s náruživostí sobě vlastní se snaží rozklíčovat složité předivo lidské představivosti a snů a se vší vážností ohledává komplikovaný vztah člověka ke světu, k druhým, k sobě samému i k přírodě. Publikaci děl Eriky Bornové doprovázejí texty znalců jejího díla Martiny Pachmanové a Otty M. Urbana. The book presents a selection of the latest works by Erika Bornová, one of today's most distinctive artists and a teller of forceful and multifaceted stories. Her sculptural cycle dedicated to Alma Mahler and her men, her captivating acrylic self-portraits, her imaginative drawings of Plants or Aquatic Creatures – they all reflect, with a sense of hyperbole, the banality of life. Working with her distinctive passion, Bornová attempts to untangle the complex web of people's imagination and dreams while engaging in a serious exploration of our complicated relationship to the world, to others, to ourselves, and to nature. With expert texts on her work by Martina Pachmanová and Otta M. Urban.